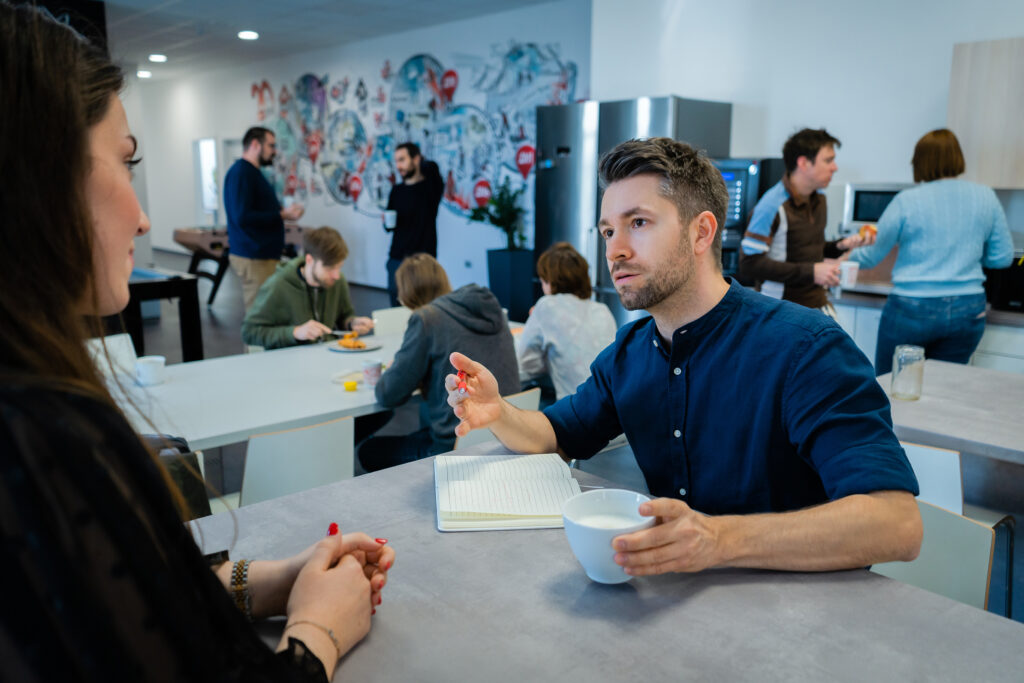 Software Engineering Manager (m/f)
We are looking for a motivated and experienced Software Engineering Manager to join our Scientific Services department.
Cosylab's Scientific Services department is renowned for delivering top-of-the-line turnkey software solutions that power the world's most intricate and sophisticated systems, such as particle accelerators, large telescope arrays, fusion reactors, and complex devices in the hard-tech industry. Our solutions are a critical component of the most notable international science projects, including ITER, FAIR, ESS, CTA, ALMA, and other ground-breaking initiatives that have revolutionized the world of science and engineering.
About the role
In this role, you will be responsible for leading a team of versatile engineers, ensuring the successful completion of projects, and identifying new business opportunities to secure new work for your team. This is an excellent opportunity for someone who wants to develop their leadership and business development skills and positively impact the organization.
Moreover, you will help us advance humanity in the fields of Particle accelerators, Fusion, Hard-tech industries, Astronomy, Space, Quantum, and more.
Key tasks and responsibilities
Managing complex software development projects.
Creatively solving challenges during complex projects using technical and people competencies.
Assign project roles and monitor the team's backlog to optimize team capacity utilization.
Ensure that projects are delivered on time and within budget.
Lead and motivate a team of 3-6 engineers to achieve project goals.
Plan and execute the team's growth, ensuring long-term stability by coaching and onboarding new team members.
Manage the career development of team members and conduct performance reviews.
Participate in the presales process, understand customer's technical and project needs, and analyze their requirements.
Actively participate in identifying new business opportunities and securing new projects for your team.
Required qualifications and skills
Experience in leading teams in customer-facing organizations (Services, Support).
Experience in software development and/or system integration.
Proven record in managing budgets, resources, and timelines to ensure project success.
Proven pre-sales engineering track record, including the ability to identify and pursue new business opportunities.
Excellent leadership and people development skills, including the capacity to inspire and guide a diverse team of engineers.
Ability to balance business and team needs to meet expectations, timelines, and customer experience.
Strong communication and interpersonal skills with the ability to build strong relationships and collaborate effectively with internal and external stakeholders.
Bonus points if you have
Proven experience with integrating developed components and subsystems into larger systems at customer sites, ensuring seamless functionality and meeting project requirements.
Education
Bachelor's Degree in an appropriate field of study or equivalent work experience.
Fluency in spoken and written English.
What we offer?
Employment contract for an indefinite period with a six-month probationary period.
A work environment with flexible working hours and remote work.
Plenty of opportunities for personal and professional growth combined with a competitive and periodically updated salary tailored to your skills, experiences, and results.
Interesting work full of challenges in an international working environment.
High-impact learning culture: regular in-house and external training sessions and a team of international professionals eager to help you grow.
Many recreational after-work activities, unlimited coffee, soft drinks, fruit,… other well-being goodies.
Cosylab events (Team buildings, New Year's Party, … ).
Casual atmosphere with friendly faces where you can completely "be yourself".
Cosylab culture
We offer the best solutions for ambitious businesses.
Think bold
We deliver exceptional solutions through courageous thinking, open communication and the drive to continuously improve. 
Be modest
We set our egos aside in actively listening, respecting one another, and embracing the diversity of experience and perspective across the company.
Work smart
We know we get more accomplished by working together, being accountable, focusing our efforts and going the extra mile.
Enjoy life
We prioritize balance and positivity, nurturing personal wellness and celebrating successes.
Do good
We support one another and are passionate about solving the difficult problems that ultimately help make the world a better place.
Discover our work environment
Apply for Software Engineering Manager (m/f) by Tuesday, 5 December 2023
Please fill in the application form and upload your English CV, motivational letter and other relevant documents.
Thank you
Please fill in the application form and upload your English CV, motivational letter and other relevant documents.
We're looking for individuals with diverse knowledge and experience searching for a new opportunity to challenge themselves in a demanding and rewarding career.
Sales Engineer – High-Tech Industries, Nuclear Fusion, Big Science (m/f)
Ljubljana, Slovenia