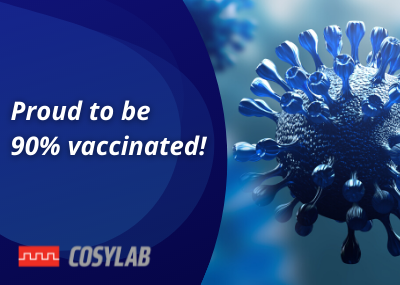 Cosylab against COVID-19
Publish date:
30. August 2021
There is no denying it; the Covid pandemic has changed our lives profoundly. Millions of lives have been lost, and trillions of euros added to the global debt. Ongoing vaccination programs and continued safety diligence provide some light at the end of the tunnel, but as vaccine hesitancy persists and new variants spread across the globe, herd immunity appears less attainable.
We at Cosylab are doing our part to end the pandemic. We are happy and proud to say that 90% of our employees have already been vaccinated against COVID-19!
Unfortunately, this is high above the local and global average vaccination rates. Yes, there is a big problem of vaccine distribution worldwide, but there are also many people with free and easy access to vaccines who choose not to vaccinate.
The science is clear; the vaccines are safe, and they save lives. They are also our only way out of the pandemic. We hope that more and more people will realize that this is a time when we need to step together and that vaccination is something we can collectively do to stop this health crisis and get back to some normalcy again in the foreseeable future.
More about the safety of Covid-19 vaccines: https://www.who.int/news-room/feature-stories/detail/safety-of-covid-19-vaccines