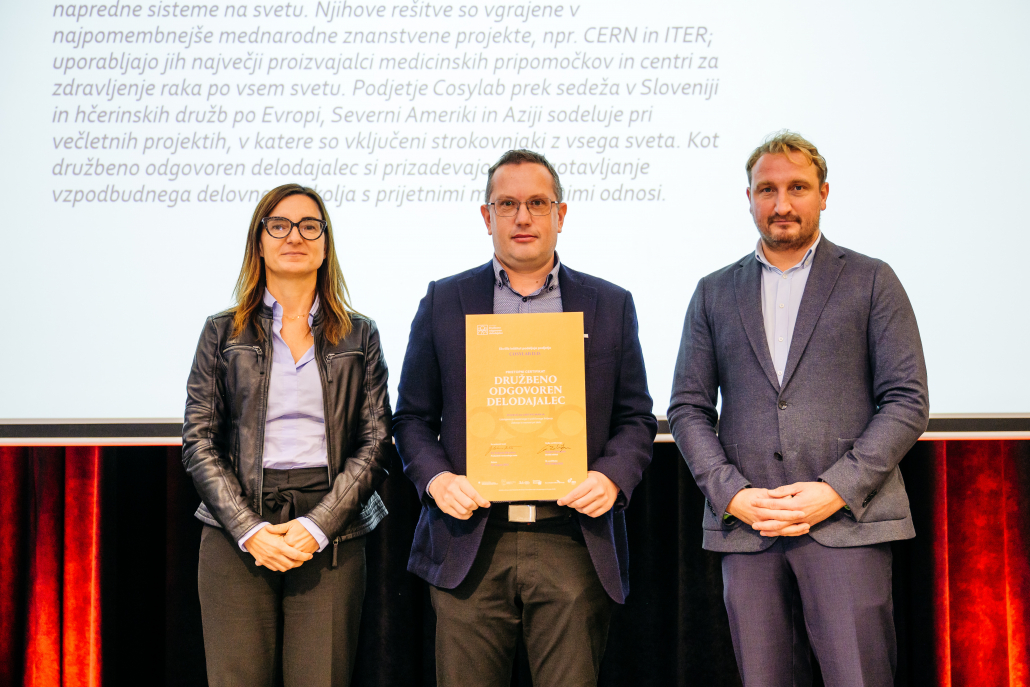 Cosylab receives the "Socially Responsible Employer" certificate
Publish date:
28. September 2022
Cosylab, the leading provider of software solutions for the world's most complex, precise and advanced systems, has been awarded the Socially Responsible Employer accession certificate by the Ekvilib Institute, a Slovenian-based non-profit and independent organisation dealing with social responsibility, human rights and development cooperation.
Cosylab receives the "Socially Responsible Employer" certificate
The Socially Responsible Employer certificate is based on the guidelines of the international standard for social responsibility, ISO 26000. It aims to improve the socially responsible behaviour of organisations and companies in relation to their employees.  
Obtaining the certificate is an audit and consulting process aimed at evaluating and advising employers on how to increase their social responsibility towards employees. Cosylab received the accession certificate after a comprehensive assessment that evaluated the company's activities to ensure health, safety and work-life balance in the workplace.  
"As a socially responsible employer, we strive to create a stimulating work environment with pleasant interpersonal relationships," said Rok Šabjan, deputy COO of Cosylab. "We promote the coordination of our employees' professional and personal lives, take care of their health, education, environmental awareness and charity, thus contributing to their satisfaction and the well-being of society as a whole," added Sindi Vogrič, HR Business Partner and Project Manager for "Socially Responsible Employer" at Cosylab.  
 "A typical ideal profile of a socially responsible employer in Slovenia is characterized by a high level of employee satisfaction in the workplace, an orderly organizational culture and a good working atmosphere. In this company, employees are able to balance their personal and professional lives at all stages of their lives. It provides a safe and health-friendly work environment and ensures job satisfaction and productivity by offering equal opportunities for advancement to different employee groups. The employees of such an employer can realize their full potential, which also leads to a more competitive business environment," emphasized Gašper Zakrajšek, Head of the Ekvilib Institute's project for certification as a socially responsible employer.