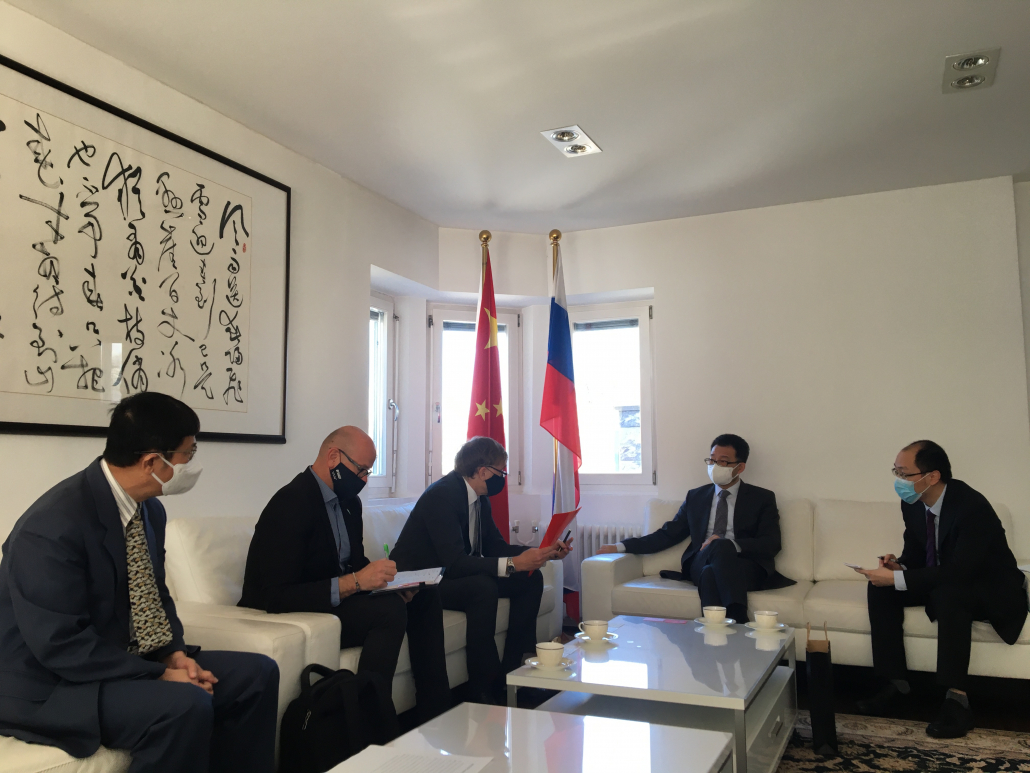 Cosylab visit to China Ambassador
Publish date:
26. March 2021
Cosylab is very active in China with its subsidiary, which cooperates closely with Chinese partners. The company is also a founding member of the Slovenian-Chinese Business Council, and its CEO, Mark Plesko, is a member of its executive board. So it was only a question of time when our delegation would visit the Chinese Embassy in Ljubljana.
Cosylab visit to China Ambassador
On the 16th of March 2021, we did just that! On that day, we met with the People's Republic of China's Ambassador to Slovenia, His Excellency Wang Shunqing and his embassy colleagues. Among them were Mr Yuan Kehua, Economic & Commercial Counsellor, Mr Li Bo, Director of the Political Section, Mr Yang Guozhang, the Second Secretary and M. Wei Yiguang, the personal assistant to His Excellency.
The goal of Cosylab's visit was to present to His Excellency the joint ambitions of Cosylab and its Chinese partners and the progress and bottlenecks of Cosylab projects in China. Mark Plesko, and his senior advisor, Janko Burgar, were also eager to learn of His Excellency's views on Slovenian high-tech companies' cooperation with their Chinese counterparts and research organisations and the relevant policies regarding this domain.
We emphasised that we are building partnerships both in Chinese science and hi-tech healthcare, with a special emphasis on battling cancer with proton therapy. We also presented the ways Cosylab is contributing to China's development in some of the areas that are highlighted in the recently unveiled China's 14th Five Year Plan, specifically with the following sections:
Article 2; To persist in innovation-driven development and comprehensively shape new development advantages; and
Article 13; Improving the Quality of the People and Promoting the All-round Development of People;
His Excellency Wang Shunqing expressed his passion for science and hi-tech endeavours and was impressed by Cosylab's know-how and productive ties with Chinese partners. He emphasised that he supports our cooperation with our Chinese counterparts and is always prepared to lend a helping hand.
His Excellency also has an excellent command of German, so he and Mark quickly delved into this language to effortlessly discuss the finer points.