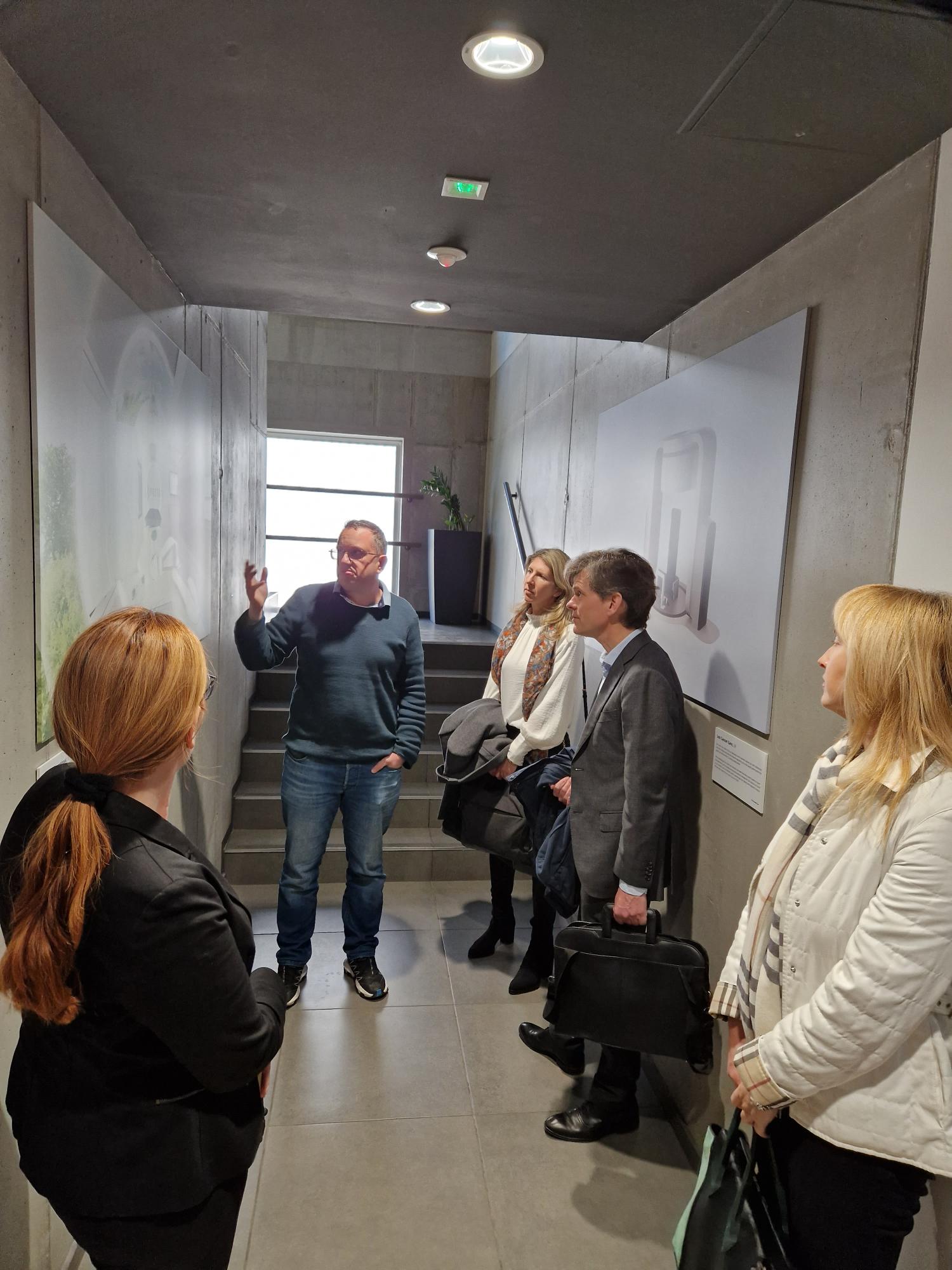 Delegation from the European Space Agency and Slovenian Ministry visits Cosylab
Publish date:
4. April 2023
Ljubljana, Slovenia, April 6, 2023 – Representatives of the European Space Agency (ESA) and Slovenian Ministry of the Economy, Tourism and Sport today visited Cosylab. They deepened their understanding of the company's history, experience and expertise in providing solutions for Space and its development plans for this domain.
Delegation from the European Space Agency and Slovenian Ministry visits Cosylab
The delegation consisted of Matthew Bullock and Noelia Peinado from ESA, accompanied by Tanja Permozer, Head of the Slovenian Delegation to ESA, and her colleague Sabina Kolesa, both from the Ministry of Economy, Tourism and Sport of Slovenia.
The guests were welcomed by Cosylab representatives Rok Sabjan, Deputy COO, Miha Vitorovic, Head of Space Solutions and Harshraj Raiji, Project Manager for Space, accompanied by Tadej Pukl, Head of Scientific Sales, and Nina Pecoler, Head of Project Office.
Cosylab has a well-established partnership with ESA, one which operates under the General Support Technology Programme (GSTP). The programme focuses on developing cutting-edge technologies that are not yet ready for space travel and preparing them for future missions. These will contribute to our knowledge of the Universe, help us better comprehend our environment, navigate more reliably, supercharge communications, save lives, and ultimately benefit humankind.
In the Space industry, Cosylab helps organisations establish software systems faster and with less risk in a highly regulated environment, allowing them to concentrate on space exploration. Cosylab's solutions are embedded in major international scientific and astronomical projects, such as CERN, ITER, ALMA, CTA and ELT.
"Space missions will have to evolve in the next five years to meet the demands of the agencies and industry leaders. We are on the threshold of innovations in smart failure detection, isolation and recovery techniques, artificial intelligence, and machine learning. The advancements in technology promise vast increases in reliability, cost-effectiveness, and permanent access to Space.
We look forward to continued cooperation with the ESA and our Ministry; to support Slovenia's strategic goals in the Space industry, together with other high-tech companies," concludes Miha Vitorovic, Head of Space Solutions at Cosylab.