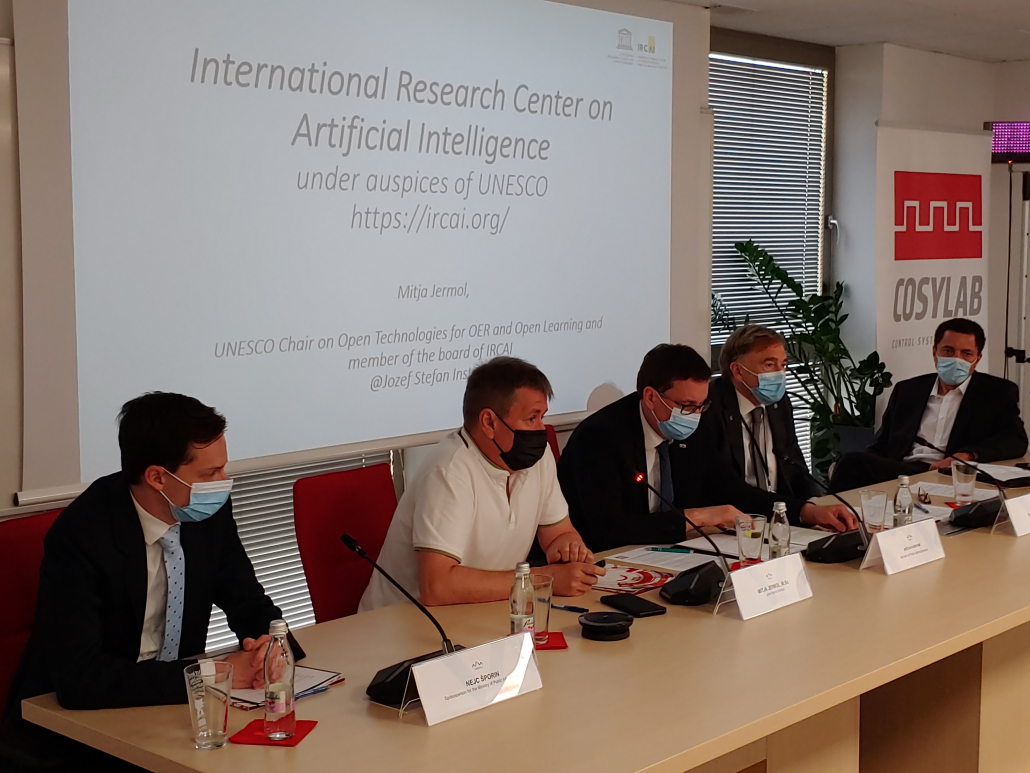 Members of the foreign Press reporting from the EU visit Cosylab!
Publish date:
5. July 2021
On the 1st of July 2021, Slovenia took over the Presidency of the Council of the EU from Portugal. In the tradition of presiding countries, the Government hosted foreign correspondents from Brussels that cover the EU institutions and took them on a tour of some of the most memorable places.
Members of the foreign Press reporting from the EU visit Cosylab!
The very first Slovenian locality of interest the group of almost fifty journalists visited on day one of the Presidency was Cosylab's headquarters in Ljubljana! At Cosylab, they first met with the Minister for Public Administration, Mr Bostjan Koritnik, who spoke of the priorities of the Slovenian Presidency that are managed by his ministry.
The journalists gained insight into Slovenia's action priorities, such as innovation and strengthening the Union's resilience to crises, especially in digital transformation and security, artificial intelligence (AI) and advanced healthcare based on digital technology. The Press then learned about the International Research Centre on Artificial Intelligence (@IRCAI) coordinated by the Josef Stefan Institute under the auspices of @UNESCO.
But for the representatives of Cosylab, the essential part of the event was when they could describe to members of the global Press what kind of a high-tech #NextGenEU company Cosylab is and where it is going! They explained that Cosylab is a world-leading independent developer of radiotherapy software solutions. It built this success as one of the World's largest independent R&D systems integrators for Big Science particle accelerators, radio telescopes and fusion reactors, known at scientific facilities around the globe, such as @CERN, @SLAC, @ALMA and @ITER.
The company is also working on therapy and emerging technologies, such as quantum computing, biotech, agritech and #medtech. But it is in its role as a break-the-mould medical software company that Cosylab has made its longest strides in the past few years, leveraging advanced digital technologies. Among its offerings are also X-ray radiotherapy and particle therapy (PT) products.
Cosylab is paving a path towards a digital transformation with medical software for AI-enhanced radiotherapy that will play a pivotal role in advancing healthcare based on long-term value to the patient and society.
Read the press release of the Government Communication Office here:  https://slovenian-presidency.consilium.europa.eu/en/news/the-priorities-of-the-slovenian-presidency-presented-to-brussels-correspondents/