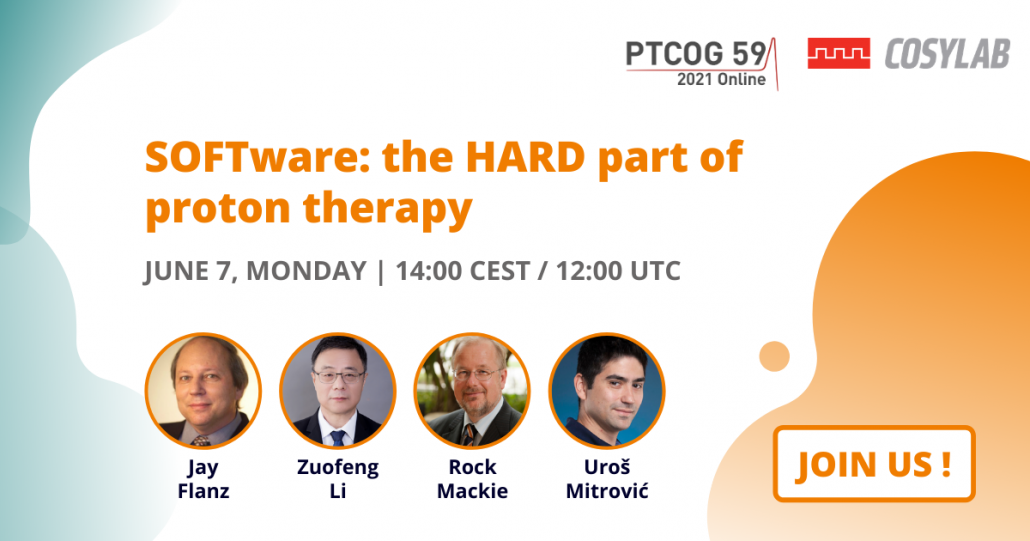 SOFTware: the HARD part of proton therapy? Join our round table on 7th June 2021!
Publish date:
25. May 2021
The development, operation, and maintenance of particle therapy (PT) systems is a long, costly, complicated, and challenging process. Software development plays the central and the most critical role, but it is often overlooked and underestimated. Most PT system manufacturers experience it as a bottleneck in their development of a complete solution.
SOFTware: the HARD part of proton therapy? Join our round table on 7th June 2021!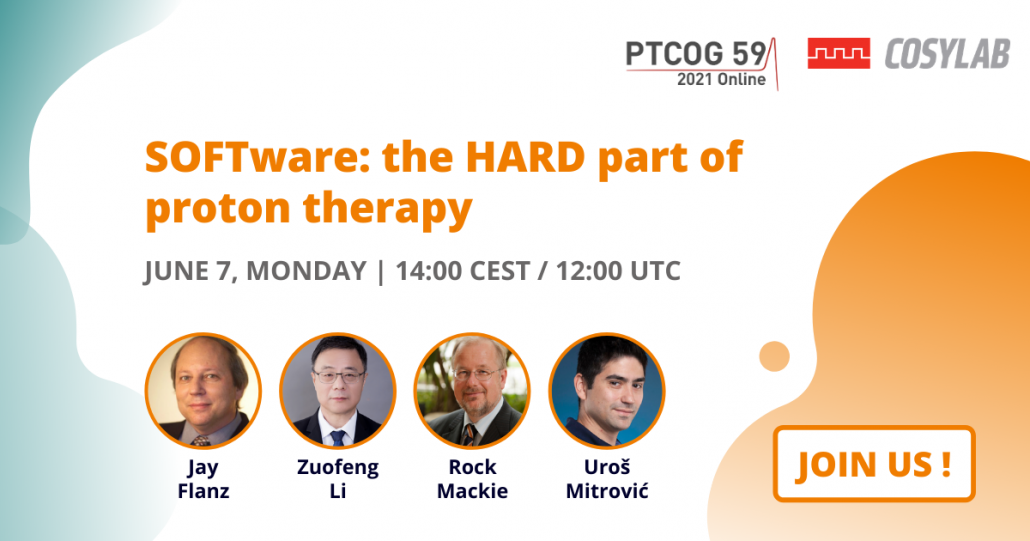 How does performant software affect integration, clinical workflows, safety, upgrades and future technologies?
To find out, join our round table and Q&A session. Together with world-renowned experts Jay Flanz, Thomas Rock Mackie and Zuofeng Li, we will discuss the importance of performant software and how it affects the different aspects of a Particle Therapy System.
The range of topics we will discuss is wide:
PT machine complexity and integration;
Efficient clinical and QA workflows;
Patient and personnel safety;
PT system upgrades;
Outsourcing SW development: yes or no.
"SOFTware: the HARD part of proton therapy" will be followed by a Q&A session.
When: Monday, 7th June 2021 at 14:00 CEST.
You can join our round table by clicking this open-access link: https://www.ptcog59.org/cosylab-symposium.htm.
For those of you who haven't registered for PTCOG 59 yet, you can do so here: https://bit.ly/3efaLMj.
About the Panelists:
Jay Flanz, Phd, is the President of the PTCOG international organization. He served as Assoc. Prof. at the Harvard Medical School and Technical Director at the Francis H. Burr Proton Therapy Center of MGH before retiring in 2020;
Zuofeng Li, PhD, is the chief physicist of the Meizhong Jiahe Medical Group (Concord Medical Holdings) and Guangzhou Concord Cancer Center, and is a Fellow of the American Association of Physicists in Medicine;
Thomas Rockwell ("Rock") Mackie, PhD is Emeritus Prof. in Medical Physics, Human Oncology, and Engineering Physics at the University of Wisconsin-Madison and the Director of Medical Devices Focus Area at the Morgridge Institute for Research;
Uros Mitrovic, PhD, is Cosylab's Medical Product Portfolio Manager of OncologyOne suite with more than ten years of experience in several medical fields, among others radiotherapy and medical imaging;
Gregor Humar, Vice President of the Medical Division at Cosylab, will moderate the round table.