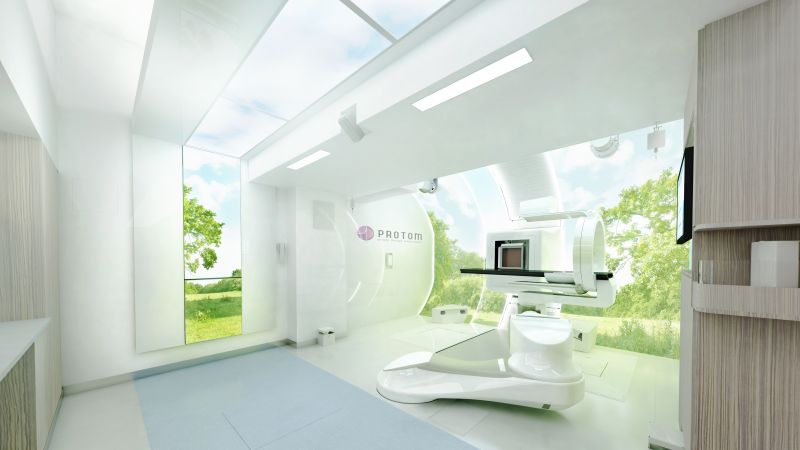 A Compact In-clinic Proton Therapy Device Supported by Cosylab's Software
Publish date:
22. November 2023
ProTom International (ProTom) is a medical technology company specialising in developing and manufacturing proton therapy (PT) systems for cancer treatment. ProTom's main innovation is the design and production of a compact and cost-effective PT system named the Radiance 330®. The system can deliver high-precision proton therapy to a broader range of patients and at more locations than traditional PT systems, which are typically larger and more expensive.
A Compact In-clinic Proton Therapy Device Supported by Cosylab's Software
First Patient at Massachusetts General Hospital 
 
February 2020 in Boston, USA, was a historical moment for ProTom and Cosylab when the first patient was treated in the Massachusetts General Hospital (MGH), with a proton therapy system, delivered by ProTom, and powered by a treatment delivery and motion control system designed by Cosylab. 
 
The Cosylab team has been collaborating with ProTom since early 2016 to develop the Radiance 330® Single Room Proton Therapy System that is now installed and operational at MGH, leveraging Cosylab's advanced radiation therapy software. 

"Our control system specifications required a highly modular design to enable the wide range of configurations we offer. Time and again, Cosylab was able to implement creative solutions to integration challenges on highly aggressive schedules. Every person we have worked with at Cosylab, in development and during the installation of the Radiance 330® PT System at MGH, has been, for lack of a better word, utmost competent. They exceeded our expectations regarding response time, scope, and quality of work."
Daniel J. Raymond, Vice President, Engineering, ProTom
"I have worked closely with Cosylab to mould a highly technical yet clinically efficient and user-friendly interface for our Radiance 330® Proton Therapy System. In my 30 years in proton therapy, working with Cosylab was one of my most rewarding career opportunities. The team follows the proper regulatory pathways and strives to get detailed clinical user input while developing complex software interfaces and providing integration services. Cosylab has been an integral part of our development team, and I look forward to working on ongoing system developments with them." 
Sue Michaud, Vice President, Clinical Integration at ProTom
ProTom's Radiance Innovation
ProTom's innovative Radiance 330® proton therapy system features advanced pencil-beam scanning technology and an integrated imaging and control system. It is designed to be one of the smallest and lightest PT systems on the market by virtue of its very compact synchrotron particle accelerator that requires no special road transport, facility access hatch or special cranes for delivery and installation. The system is modular and can be installed in the facility through typical freight or staff entrances. In fact, Radiance 330® can be set up in existing radiation therapy vaults – for example, by joining together a couple of existing linac vaults.
Although the Radiance 330® PT system is compact, measuring only 4 metres in diameter, it possesses the latest integrated technology to deliver highly complex proton therapy treatments. It generates a clinical treatment energy range from 70 MeV to 250 MeV and can attain 330 MeV for future use in proton imaging. Being a synchrotron, the device can be readily removed when decommissioned, unlike a cyclotron. ProTom's PT device can be used in a broad range of locations, including smaller hospitals and clinics, which may not yet have access to proton therapy for advanced cancer treatment, and is priced more competitively than similar devices.
Pencil-beam scanning

Proton therapy treatment based on pencil-beam scanning is one of the most advanced forms of PT treatment, as it enables the system to apply superior dose sculpting and higher beam efficiencies than other methods of PT. The latter can reduce the adverse side effects on patients and improves their long-term outcomes and quality of life. 

The Challenge: How Could ProTom Focus on Their Core Competencies?
As a small and innovative proton radiation therapy company, ProTom had an excellent device design and well-researched business case but was under tight schedules to bring its Radiance 330® to market and clinical users. Small and agile medical device companies rarely have the resources and experience to perform the whole software development cycle efficiently themselves.
Coding is only a third of the effort 
 
Seventy percent of the development effort for a medically certifiable device consists of activities other than coding itself. Among these are, for instance, following and documenting the quality assurance (QA) processes, testing, and preparing the system engineering documentation as demanded by medical regulators. 

It does not matter whether our radiation therapy customer is a startup system integrator or a prominent radiation therapy vendor, who has vertically integrated most of their development of hardware, software and electronics -- our mission is to help device manufacturers tackle their product's technical complexity on all levels of their system.
Software as the Keystone of Integration
Cosylab created its integration solution for ProTom by combining a Treatment Control System (TCS) and a Motion Control System (MCS) while also developing a custom safety system for patients and clinical personnel. Cosylab actively fine-tuned the integration of the treatment and the motion control systems and performed commissioning.  
A good medical software provider not only delivers the central medical software but also develops adaptors for integrating all the devices into a fully functional and medically-certified radiation therapy device – such as the robotic couch, the CT imaging ring, the synchrotron (proton source), and X-ray imaging.  
The Treatment Control System (TCS) is the central workflow manager which coordinates the operation of all parts of the external beam radiation therapy system, enabling radiotherapy technologists to carry out treatment and QA workflows. It was designed and developed according to strict medical standards and the latest usability best practices, offering optimised workflows and advanced features.
TCS represents a crucial part of ProTom's next-generation Radiance 330® as it allows the radiotherapy technologist (RTT) to have complete control and overview of the clinical treatment workflow as the latter is fully configurable. TCS is also DICOM and IHE-RO compliant, simplifying integration with various OIS providers. 
The role of the Motion Control System (MCS) is to enable the clinical personnel to accurately and quickly position the patient to a prescribed position to deliver the proton beam. It also coordinates the movement of the selected imaging device and gantry, calculates the treatment position based on specified spatial arrangement and corrections, and verifies actual treatment positions.
The MCS utilises reliable motion via optical tracking and path-planning algorithms for singularity and collision avoidance. Based on image registration results, the motion control system correctly adjusts the patient's position.
"We developed the Treatment Control System as a generalised treatment control system that is ready for upgrades, so the core is functionally well determined. Third-party devices often come with specific interfaces that are not "plug-and-play". During the integration of third-party devices, we thus implemented all of their protocols and provided for translation between them – and helped the device vendors to iron out the discovered bugs.

ProTom's and Cosylab's technical teams really hit it off, working as one engineering force, especially when they worked hands-on and on-site at the MGH installation of Radiance 330®."
Luka Šepetavc, Head of Medical Integration for ProTom at Cosylab
Cosylab Supports ProTom's Future
ProTom's state-of-the-art PT system has been in clinical use since 2020, for example, at the Massachusetts General Hospital. The Radiance 330® system is proof the development of small proton therapy devices has the potential to revolutionise radiation therapy by being less expensive to install and operate. As such devices are easier to place in existing clinics and more affordable for healthcare providers, their numbers will rise, and they will also be located in smaller, local hospitals. 
Compact PT devices, like ProTom's Radiance 330®, with the innovative software that supports them, such as Cosylab's OncologyOneTM software suite, will allow more patients to receive proton therapy without travelling long distances to a large, dedicated proton therapy centre. This will increase the accessibility of particle therapy to a broader population of cancer patients, including those in underserved or rural areas or developing countries. 
To continue on its long-term path of innovation in radiation therapy devices, ProTom decided to rely on OncologyOneTM as the software technology for its future systems due to its advanced features, such as adaptive therapy and comprehensive system upgradability. 
"The successful clinical operation of the Radiance 330® PT system at MGH in Boston is the culmination of years of design and development. It accelerates ProTom's mission to place this highly sophisticated technology within reach of many more hospitals and physicians. I would especially like to thank Cosylab for its extreme professionalism and support in providing and integrating critical software for the Radiance 330® PT system, without which our product would not be today's success!

A potential new investor in ProTom even said that we must work with Cosylab because they are the rock stars of the industry!"
Bill Behnke, Chief Executive Officer of ProTom