Neutron Therapeutics' nuBeam® Uses Cosylab's OncologyOne Software to Reach Critical BNCT Milestones
Publish date:
6. April 2023
Neutron Therapeutics, Inc. (Neutron Therapeutics) was founded in 2015 and is the manufacturer of nuBeam®, a revolutionary, state-of-the-art Boron Neutron Capture Therapy (BNCT) device for the hospital setting. This device will help transform groundbreaking medical research into a widely available, first-line system for highly targeted radiation treatment of cancer patients. The company believes that BNCT will soon be a powerful and widely available tool for radiation oncologists, expanding the arsenal of available treatments for patients who have run out of options.
Neutron Therapeutics' nuBeam® Uses Cosylab's OncologyOne Software to Reach Critical BNCT Milestones
"Manufacturers of innovative and complex medical devices face the same challenges when planning a timely launch of their certified product to the market – how to maintain focus on their core competencies and overall project management while outsourcing portions of their development effort to highly experienced technology partners. Choosing the right partners and finding an efficient way to collaborate with them is often more an art than science. I believe we chose wisely in deciding to partner with Cosylab, as we were seeking rapid development iterations, clear communication, proactive, flexible and skillful problem-solving, and effective solution delivery. With Cosylab, we gained all of these and more."
For decades, BNCT was restricted to small, patient-unfriendly research facilities at nuclear reactors, often located far from the hospital. But in the last ten years, the radiation therapy industry has ushered in a revival of BNCT with the development of compact, accelerator-based neutron sources and the validation of boron-10 carrier compounds. At the forefront of these companies is Neutron Therapeutics.
Neutron Therapeutics' flagship product, the nuBeam® therapy platform, is an accelerator-based, in-hospital neutron source that is very compact and can be placed on a single floor of an existing clinic, occupying as little as 400 m2. The optimised neutron beam offers the highest neutron flux on the market and is the only one compliant with IAEA standards for the clinical BNCT. The industry-leading neutron flux allows for significantly shorter treatment times for patients than competing BNCT devices, with one to two treatments of about 20 minutes each needed for complete therapy.
Neutron Therapeutics is, at its heart, a manufacturer of complete systems for BNCT, not a software company. The company partnered with Cosylab to integrate its cutting-edge medical software products into the nuBeam® system for workflow management, motion control, and image guidance.
"Based on the statistics of half a million new patients annually in Europe, Japan, China, and the US, the market potential for BNCT is about 16 billion US dollars, taking into account the estimate of current applicability to twenty per cent of cancers.

At Cosylab, we firmly believe in BNCT's future, and we are proud we could help Neutron Therapeutics stay on schedule with the commissioning of their groundbreaking nuBeam® system in Helsinki and Japan."
The Project Challenge for Neutron Therapeutics
With nuBeam®, Neutron Therapeutics created a clinical solution for BNCT with all subsystems in place for imaging, patient positioning and treatment. The system's neutron source uses a 2.6 MeV electrostatic proton accelerator operating at 30 mA and a rotating, solid lithium target for generating a homogenous beam of epithermal neutrons.
But the challenge Neutron Therapeutics faced wasintegrating all the nuBeam® subsystems into a device ready to perform clinical trials, first in Helsinki, then in Kanagawa Prefecture, Japan, within the project's tight deadlines.
To overcome this hurdle, Neutron Therapeutics needed a reliable and fast medical-grade control system. Rather than building such a capability internally, the logical solution was to select a control systems specialist in medical devices and proton sources with a proven track record in managing costs, deadlines, and time to market.
"Our main job was, of course, to fully integrate the OncologyOne software into the nuBeam® control system that communicates with the accelerator components, the robot and the positioning couch that serves both the BNCT device and the in-room CT scanner. But we also performed many other tasks, such as exhaustive testing, which we succeeded in completing mostly remotely.

We soon determined that some of nuBeam®'s third-party subsystems' software didn't perform as expected, so we resolved the problems with close communication with the customer and subsystem suppliers."
"The engineers at Cosylab truly have experience in systems engineering and radiation-therapy domain, medical software development, quality control, documentation management, on-site implementation, teamwork, solving non-trivial issues, and working in tricky situations, always looking for solutions, not problems."
The Technical Solution for Neutron Therapeutics
Cosylab already has a software suite of medical products for radiation therapy devices called OncologyOne, ranging from LINACs to complex devices for Particle Therapy and BNCT. Thus, it was natural that Cosylab could offer Neutron Therapeutics the ability to integrate nuBeam®'s components into a control system based on OncologyOne's functionalities for image acquisition and registration, and session management.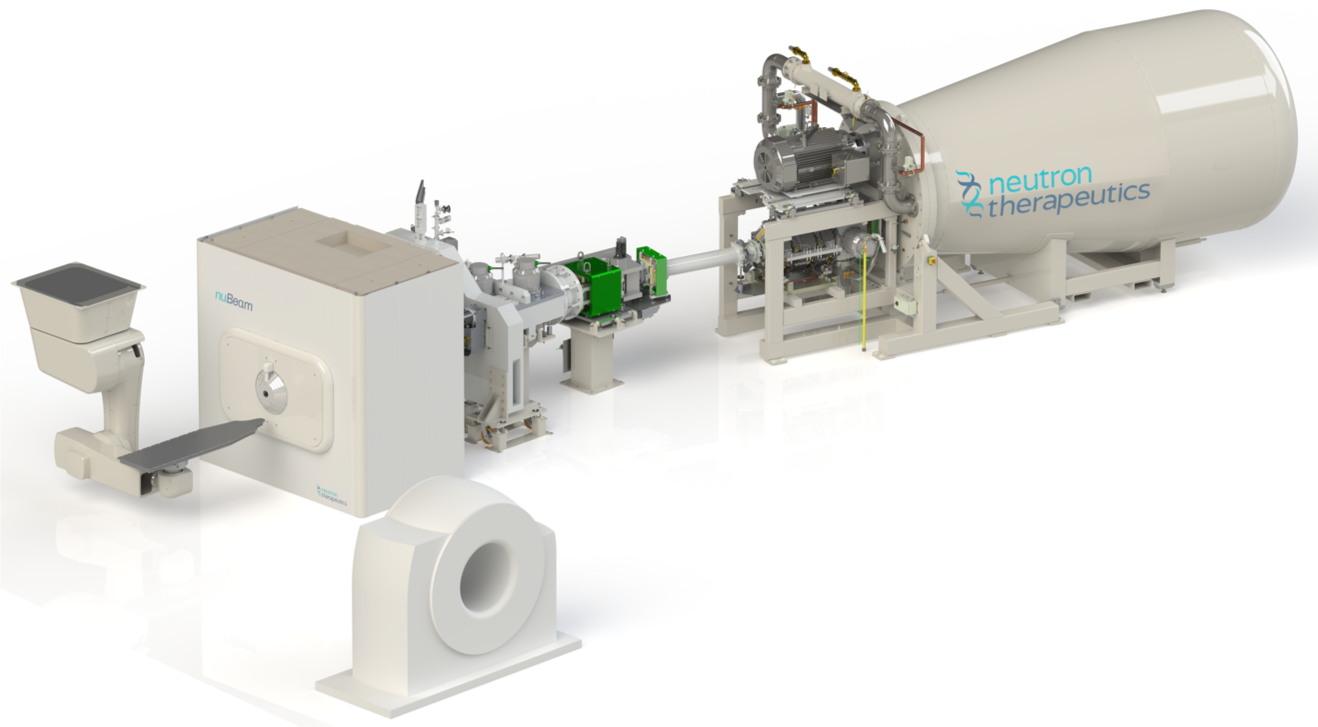 "Unlike with PT, the treatment plan in BNCT can be determined only just before the treatment, as the dose depends on the amount of the boron-10-containing drug infused into the patient's bloodstream. We had to fine-tune this feature to make it more usable and intuitive for the clinical staff."
Objectives of nuBeam® at Helsinki achieved with OncologyOne
In May 2022, Neutron Therapeutics' installation of the nuBeam® system at the Helsinki University Hospital (HUS) produced the first BNCT clinical beam in Europe based on an industrially tested accelerator. HUS is a pioneer in the clinical use of BNCT, having previously treated over 200 cancer patients with a research nuclear reactor as the neutron source.
During the commissioning, the Helsinki nuBeam® device demonstrated robustness and reliable operation, validating the Finnish choice of Neutron Therapeutics technology for their high-throughput BNCT clinic with exacting safety requirements.
Adding yet another success, in October 2022, the clinical staff at HUS performed a complete BNCT treatment workflow on a phantom, using Cosylab's OncologyOne functionality which is fully integrated with the nuBeam®'s subsystems and devices. With this, nuBeam® reached the second milestone in its Helsinki clinical commissioning.
"We are proud that nuBeam®'s excellent reliability has been demonstrated in a clinical environment during our first beam testing milestone. Cosylab's integration of OncologyOne software enabled all of the goals to be achieved on time and within specifications."
"The second milestone in the clinical commissioning of nuBeam® at Helsinki University Hospital was achieved with Cosylab's product suite OncologyOne, which is the medical software that has already proven itself in other forefront radiation therapy modalities.

Our software products are designed to ensure our customers will transfer their radiation therapy innovations as functioning solutions in the clinic in complete working order and as quickly as possible. We are delighted we could help Neutron Therapeutics and the Helsinki University Hospital to reach the next milestone in their exciting BNCT revival."
"Providing BNCT with the most sophisticated accelerator-based device will enable Finnish clinicians to treat patients with some of the most obstinate cancers and remain globally at the forefront of oncology.

The latter will allow for significantly shorter treatment times for patients than previous BNCT devices — with at most two treatment fractions needed for a patient's complete therapy. We are working hand in hand with our industry partners, Neutron Therapeutics and Cosylab, to bring the full clinical potential of BNCT to patients in Helsinki as soon as 2023."
Cosylab's OncologyOne brought to the nuBeam® system a proven software solution for radiation therapy that is much more readily upgradable and integrable than custom-built software while guaranteeing the shortest "time to clinical use".